A Novel Cookbook
October 3, 2012

I talked to Elissa yesterday about the Crazy Nanny from last Fri (the one who thinks we should have a changing table in the Discovery Room).

I told Elissa that whatever she said to the woman mollified her. She said she mainly listened and made noncommittal noises. She also told me that Crazy Nanny suggested that the changing table could be wiped down after every use by the person working there. When Elissa said that, I rolled my eyes.

Seriously???

I think not. I've done my time disinfecting changing tables. I'm done. And I'm sure not about to be doing that in a library!

But not to worry, Elissa said it's not going to happen. She was about as disgusted and appalled by the idea of a changing table as I was!

Other than that, not much else to write about. Yesterday was a rainy day, and it was storytime, so, predictably, the Discovery Room was very busy in the morning.

Today, on the other hand, despite it being overcast, it's surprisingly warm out, and the library was dead quiet. It was so quiet, that I got to read most of the book that I checked out (after being on the holds list for weeks!). I finally got my hands on A Feast of Ice and Fire by Chelsea Monroe-Cassel and Sariann Lehrer.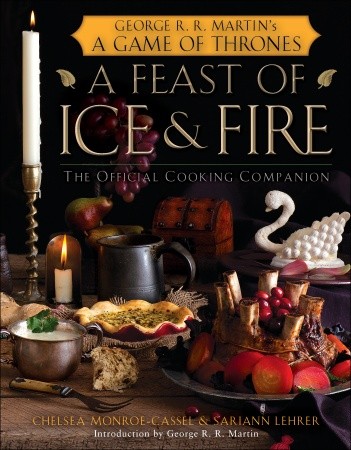 Love it!! The modern versions of the recipes are good, but it's the medieval recipes that are the most intriguing. Some are involved, but some of the recipes are pretty simple. I may try a couple this weekend. And I may make my Christmas dinner from recipes in the book.

I read the introduction written by George R.R. Martin. Something that he said really resonated with me.

He says that he spends a lot of time describing food in his books, and that some reviewers and readers have complained about it, because it "doesn't advance the plot".

And then he says:

"I write to tell a story, and telling a story is not at all the same as advancing the plot. If the plot was all that mattered, none of us would need to read novels at all. The CliffsNotes would suffice. All you'll miss is ... well, everything."

Later he says:

"When a reader puts down one of my novels, I want him to remember the events of the book as if he had lived them."

And that, right there, sums up why I adored his books so much. I did feel as if I lived them. And really, that's why I read novels. I want that experience of being somewhere, sometime, or someone else.

It also explains why I generally find movie versions, particularly made-for-TV versions (alá Lifetime or Hallmark) so unsatisfying. They are, essentially, visual CliffsNotes. They may follow the plot, but they miss the story.

Needless to say, I want to own this book. Besides having good, interesting recipes, it's a beautiful book. Gorgeous photos of the food, quotes from the books, and from medieval cookbooks, and helpful comments from the authors. I told Mom she could suggest it to my brother as a b'day gift for me....provided I can wait that long!

Now I think I'll go watch a little TV. Pretty soon Panache will be looking for her Tea & Cookies. I'm trying to impress upon her that now that it is Autumn, she can't stay out on the porch till bedtime. So, I'm using T&C time as the transition. Once we have our tea & cookies, it's time for me to lock the back door and for us to stay in the house.

She wasn't terribly pleased by this turn of events last night, and she whined at me for awhile before finally going off to her boudoir. She's smart...she'll figure it out. Before long it'll be too cold for her to be on the porch, period, so it won't matter.

Here comes Panache, reminding me that it's Tea & Cookie time...so, on that note, I'm going to post this, and heat my tea. (after all, Panache must be obeyed!)