First Day of School/Sophie and Wyatt (pictures)
August 29, 2011

930am

First day of school.


*BIG FREAKING DEEP BREATHE.... RELEASEEEEEEEEEEEEEEE*


Gosh. Feels.so.good.


Everyone got up, got dressed, and was out the door without a hitch. Dee was so scared, nervous. First day of High school. She was sick to her stomach, and I could feel it too, I was nervous for her too. I remember my first day up there too. She said she had a hard time sleeping, that she only felt better when she had her hand on my shoulder, or her arm around me while she was trying to sleep last night. Awww
I'm GLAD to know that she still does need me and that just having me close does give her some comfort.

I got her schedule and map all ready for her, so all she has to do is look at it and she'll know where she's going. The school is set up by colored hallways, so it makes it easy to get around. She has her phone on her too. Although I'm not sure if she's going to be able to get any service up there, Dave said he had NONE when he took her up for her orentation last week. I hope everything goes good for her today. Fingers and toes crossed. She looked so cute this morning.





Its so nice and quiet too. Cleo is laying next to me, I'm surprised she's still laying here sleeping. Usually she's up raising hell, tearing the place apart. Maybe she's just as happy as I am that the kids are gone...






Dave and I aren't seeing eye to eye on the whole Sophie issue. He's being such a baby because she texts me and talks to me about the baby shower, and he's pissed because she asked for help with the shower, which I told her i could send her some cash, not much because its been tight this month because of school clothes. He doesn't want to send her ANYTHING because she wont ask HIM. I can't get it through his thick head that she DOESN'T know him, and he was rude to her when he found out she was pregnant, so she doesn't involve him because he obvously made her feel like shit about the situation. I'm sure she's kicking herself everyday about it, but its NOT his problem, its hers, and its his grandbaby he has to learn to deal with it. So, I have $30 to send to her this week and his pissing and whining that we are broke and I shouldn't send it, blah, blah blah. Screw you dude, I'm sending it. She posted this picture on Facebook this morning, she's huge.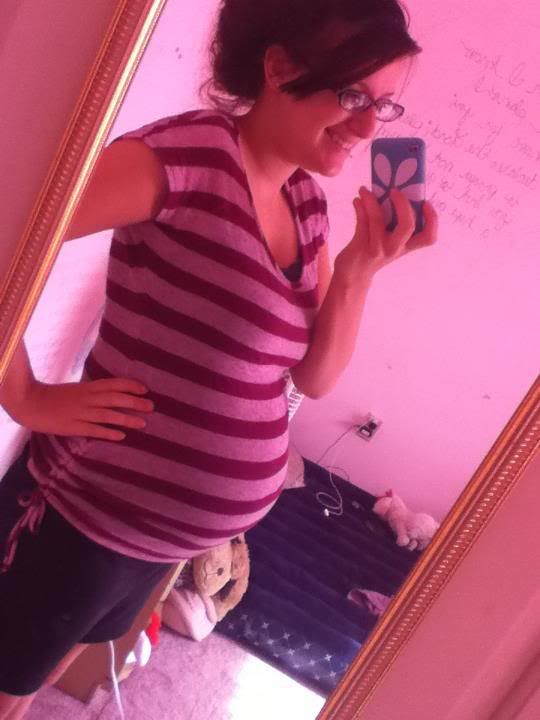 She texted me last night saying that the crib she was suppose to get didn't happen. I didn't say anything to do Dave about it, I'm not listening to him bitch anymore. I got on freecycle and posted that I needed a crib, hopefully something will come through. If not, I will find one over the weekend, I'll just buy it. I know Sophie is a screw up, she's a carbon copy of her Dad, I know she's in la-la land about this baby, the dad is in jail, but i cant not help her, there's innocent baby involved, he's done nothing to deserve the circumstances of how he got here and what he's being born into, I didn't turn my back on Wyatt, I will not turn my back on her.

Speaking of Wyatt, ugh. His mother got herself a job at a fast food joint and quickly moved up to shift manager, big deal.. but, now that her kids are back to school, she's whining to Dave about having to find a sitter for Wyatt. I DONT mind watching him, BUT not if I work the night before and have to work the next night, and thats the situation this week. She has no sitter for wed, thurs and friday, and after today i work the rest of the week. Theres no way I can watch him, I come home and DIE. Dave had to go to work and rearrange everything so he'd at least be off wed and thurs, shes on her own for friday. She just fucking rubs me the wrong way sometimes. She's lucky I love Wyatt the way I do or she'd be screwed. We had him over the weekend, and I had fun with him. I love to hear him say 'i love joo mommy' its so cute. His sense of humor is awesome. He has me laughing so much. He's just so dang cute. I took this over the weekend, we had him up at the park.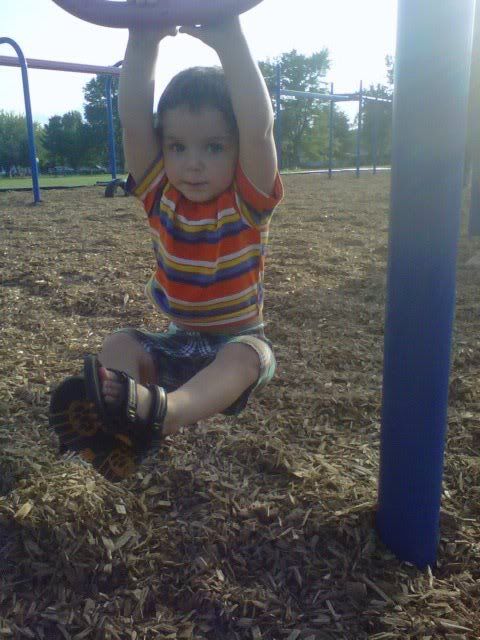 Just going to chill for the rest of the day. Enjoy the first day of silence.