Happy To Be Here
September 9, 2011

730am


This is the first day I've been "home" since the kids started school. How weird is that? I haven't gotten up to a alarm clock all summer. Dave and I were up till 2am watching one of those crime shows.. Nightmare in the neighbhorhood.. (i think) I don't know why he bothers because he always looks up the names of the people involved to see how much prison time they got. lol But, anyways, It was hard getting up at 6am. My man Wyatt is here, and he's all snuggled up, sound asleep still. I have to wake him up soon, we have to take Dave to work. We picked him up last night after Dave got off work. I stopped so we could get pizza and as Dave was inside getting pizza Wyatt spit out PLAIN AS DAY.. "mommy, there's a airplane in the sky... Where Wyatt?? I say. 'Right there Mommy'... and he points to the sky. I couldn't believe it. He's really talking more and more. He was so dang happy to be home. He was grinning ear to ear, running around the house with Noah. Him and Noah got in the tub together (he will NOT get in the tub without his diaper and NOAH has to have his underwear on lol) They played in there for the longest time, I came in to go pee and as I was leaving he says "goodbye Mommy" ... and as we were going to bed he was telling everyone good night and love you. He's just so damn cute. I get to spend the day with him alone, gotta run to walmart and maybe stop somewhere to get a sandwhich.

Tomorrow is Sophie's baby shower. Ack. Not looking foward to it. Dave is still stressing about her Mom being there, and has already left sarcastic messages for her Mom on facebook. :/ I've tried to tell him to let it go, she's grown, to let go of the grudge you have against her Mom because its not getting him anywhere, but he still holds it. :shakeshead: Why do i even bother??

930pm

The man is going to be really soon, because my old ass is worn out!! lol We did have fun today together. We didn't go anywhere, Dave ended up taking the van to work so he could pick up the crib. I managed to get some snapshots of our day together.

This is my man watching Spongebob, on the computer, instead of the tv (i dont know, he IS Dave's kid)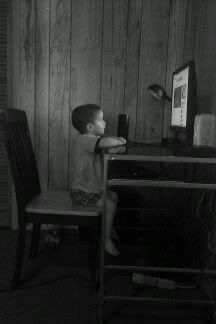 We were playing hide and go seek, and then he just gave up.



Then around 230pm he petered out.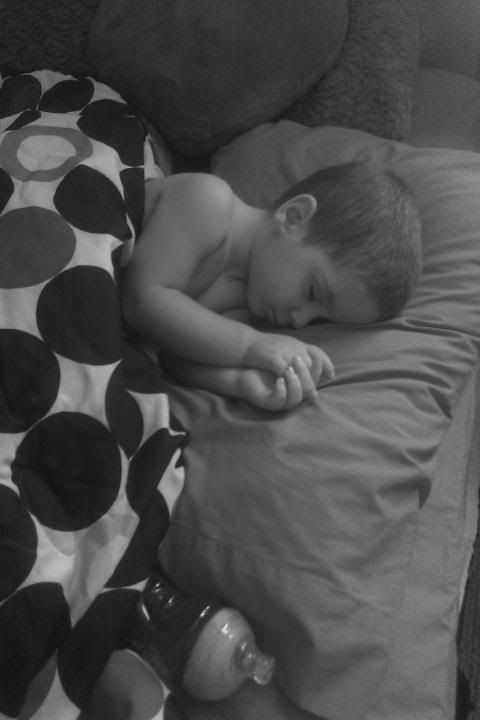 Dinner, bathtime, and just hanging out. I'm pooped. Just gonna crawl in bed in a few minutes... gotta be up early for the baby shower tomorrow. Wish us luck.