Questionable SANITY
March 5, 2012

530pm


Normally, I handle stress really well.


Today, not so well. I'm on the verge. I've screamed, I've cried, I'm going to kill someone, that's where I'm at right now.

Doctor's office called me back this morning to say that Dee doesn't have a UTI, and they asked how she was doing. I said no better. She had a rough weekend, and this morning while she was getting ready for school, she pukes her guts up. I put her to bed with the heating pad. They said they'd talk to the doctor and call me back to advice me how to go foward with Dee and her issues.

Ok.


I run Dave down to pick up the green van. $431. He gets in it, I get ahead of him, and he follows me to town (he has to work today) Half way in there, I see something hanging under the front of the van, looks like a cord hanging down. He calls me to tell me that he can BARELY steer it. We pull into Sheetz and I get out and look again, and there's a FUCKING BELT hanging completely off the van, touching the ground and its LEAKING SHIT. I lost it. I'm screaming like a fucking idiot, in the parking lot of Sheetz. Call those FUCKING RIP OFF ARTISTS and tell them its FUCKED AGAIN!!!!!!!!!!!!!!!!!! Oh, they say, it could be a water pump. I started SCREAMING AGAIN, this time so they could hear me, it aint no fucking water pump, I'm staring at the engine, I aint fucking stupid, the BELT IS COMPLETELY OFF THE STEERING PUMP, thats why its FUCKED. They better come and get this peice of shit and I fucking dare them to charge me a tow fee. Dave tells me to get in the fucking van.

Dave gets in a few seconds later, and the guy is telling him they'll fix it, they aint out to rip us off, they'll throw a belt on..blah blah blah.

I take Dave up to work, drop him off and go to Walmart with Wyatt. While I'm in there, The doctor's office calls back and says to take Dee to the ER, doctor's orders. So i text Dave, tell him. He asks where I am, I told him need to stop at Wendys to feed Wyatt before I take her to the ER, he comes overs and we eat and I head home to get Dee.

Of course, she taKES FOREVER to get ready. I'm repeatedly telling her to hurry because we are gonna have to WAIT, they will be busy.... and OF COURSE, we get there and the waiting room is FULL. I sign her in at 1135am, and we don't get taken back to the ER till 1230pm. They come in, look at her, of course NOW she has no pain. They put a IV in, draw blood, make her pee in a cup. 20 minutes later, they come in and say she needs a cat scan, and she has to drink this shit, oh and its going to take 2 FUCKING HOURS for the shit to digest before they could do the scan.

They bring one cup in at 1pm, she downs it (bitching the WHOLE time) by 130, Her and Wyatt snuggle on the cart and watch tv, 2pm they bring her in another one to start and by 215pm they are moving us to another room, and one without a tv. Time decided right there and THEN to slow down to a snails pace. The only saving grace was Wyatt, he was such a good little boy, I am so proud of him and how well he behaved. By 245pm he was sound asleep on the cart beside Dee. I took a picture.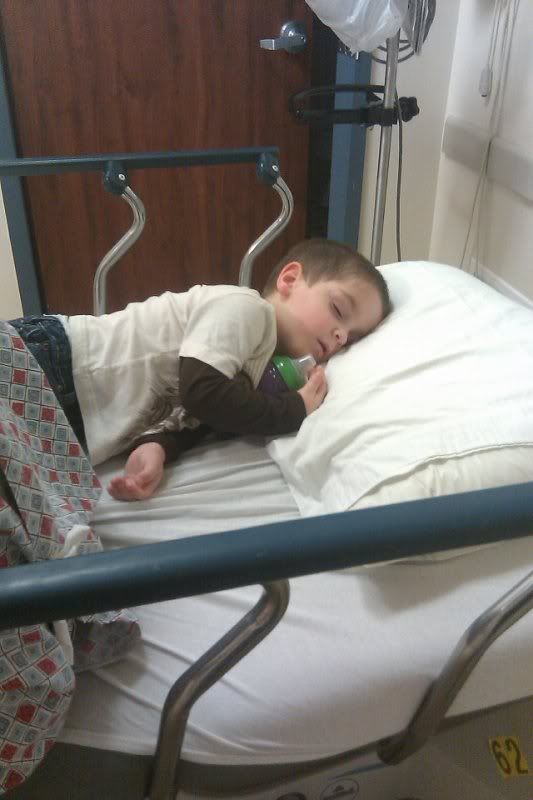 3pm, they come in and take Dee down for her scan. 20 minutes later they bring her back and the xray tech tells me it might be a while because the radiologist just read a bunch before Dee...
tick, tock, tick, tock...45 minutes later, they come in, in a hurry to throw her out, and by the way, She has a QUESTIONABLE UTI (WHAT??) they throw a doctors excuse at her to go back wednesday and a antibotic, goodbye, see ya, get OUT. All that fucking bullshit, waiting, for a fucking UTI. I'm fucking livid, I'm shaking. Calm down Ms. XXXX, its all routine... I think I have a eye twitch now...I stop at Rite Aide and drop off Dee's script.

So Jacob missed his eye appointment at Walmart, and Noah informs me that he has to be taken up to the college at 5pm for baseball practice. On the way home, I had 2 people pull out in front me, almost causing 2 accidents. I drive by the auto place to see if the van was sitting out, it was, so Dave calls and they havent fucking touched it. I get home, my house is trashed, I call Dave flipping out because NOW I will be stuck here all day tomorrow with no vehicle while he drives 4 fucking hours to Columbus Ohio, and pray nothing happens and he gets back on time so i can go to work.

I get home, change Wyatt, throw him and Noah back in the van and take Noah up to practice. On the way there, another fucking idiot pulls out in front of me, i flip them off, on the way back some bitch pulls her car out in to the intersection, the guy ahead of me almost hits her, i try going around her and she pulls out futher, i laid on the horn and FLIPPED HER OFF!!!!!!!!!!

I'm going to kill someone. I come home, again, and just look at this place, sit down and cry. I cant fucking take anymore today. I just cant. I'm just fed up. I had plans to relax today. To get my laundry room done. Hang out with Wyatt, take a nap. Nothing got done.

So, I'm sitting in the middle of a mess, with my feet up. Wyatt is snuggled on the floor.

Dave just text me. His glasses broke.


I need a gun.